Natural ingredients:
Foraged, Farmed and Forged

The Food
It's not just the taste of the food we serve up that sets Wild Street Kitchen apart, but the quality of the ingredients we source.
We pride ourselves in knowing the exact provenance of our food; we only use trusted, environmentally-conscious suppliers - from organically grown veg to ethically-sourced meat. We craft our seasonal menu to maximise flavour while minimising our impact on the world around us.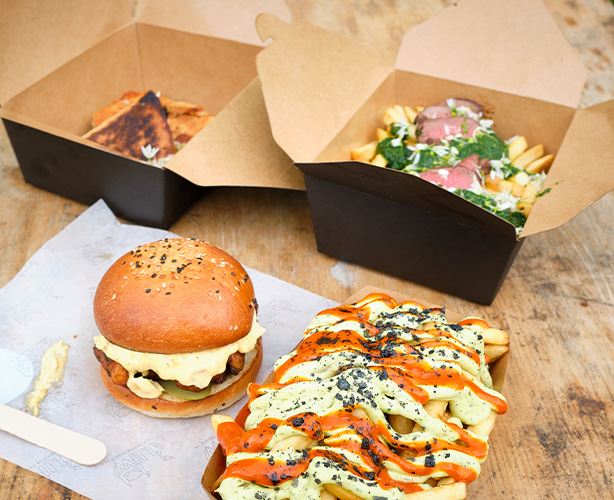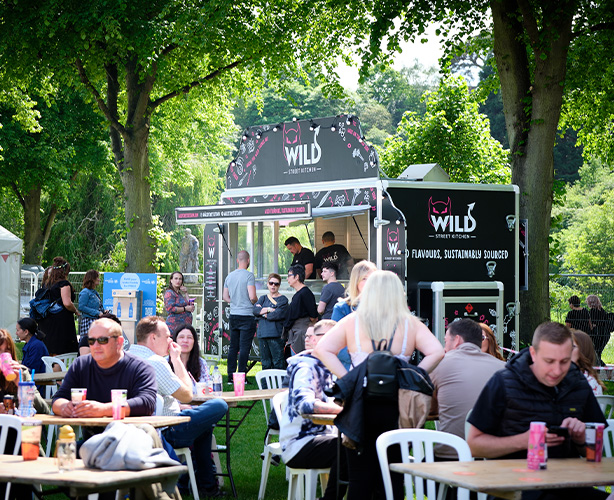 The Kitchen
In addition to popping-up at a whole host of festivals and functions throughout the year, Wild Street Kitchen is also available to hire for personal events.
Our ready-to-rock-n-roll food truck is supported by a fully-equipped catering unit, ready to serve all sizes of weddings, birthdays, festivals, local pop-ups, and other private events.
The Team
In our small but mighty team, Wild Street Kitchen has over 25 years of catering experience. As individuals, we are passionate about delivering the absolute highest quality food.
We each bring something to the table so that we can serve you some of the best grub you can get your hands on.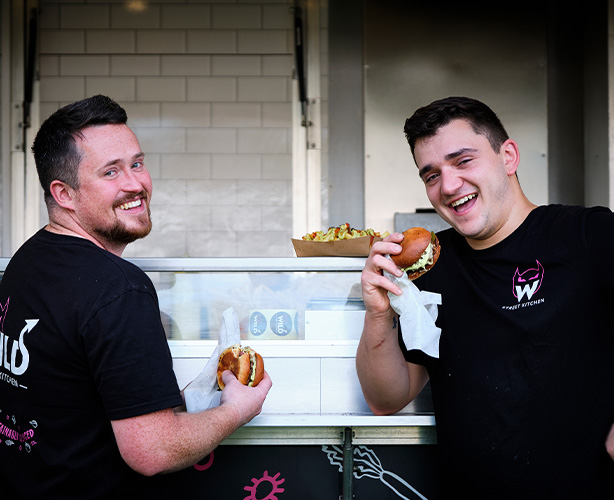 Well Fed and Well Happy...
...a word from some customers
"I had your loaded fries and the hake and crab fritter in a bun, was absolutely delicious, the best food we've had in a long while. Seasoning was spot on, please come to Manchester!"
Marie, Southport
"Tried 'The Game-Changer' burger today and it was amazing. Your kitchen was so clean, professionally run, fresh and amazing ingredients, well priced. Cannot wait to eat another burger!"
Shelly, Cosford
"The Wild boar quesadillas were to DIE for! So crispy and cheesy, and the portion size was so generous. Already thinking about when I can get my next one."
Olivia, Stone
"Best burger I have ever eaten in my life, I cannot wait to get my hands on another!"
Neil, Shrewsbury
"The three items we had off the menu were delicious. These guys really know what they are doing with game. The flavours complimented each other perfectly. Will definitely come to the next pop up event they do locally. Highly recommend to anyone who loves Venison or is even curious about trying game as it's a great introduction to what is out there naturally in the wild. Even the sauces/compotes that went with the foods were superb!"
Katrina, Ludlow
"Fantastic food, I had the 'Holy Shiitake', my husband had 'The Game-changer' and we shared the loaded fries. Both were lovely, very tasty and great value for money. The guys cooking were very friendly. We'd love to see you in Baschurch soon."
Lesley, Baschurch
"Had 'The Game-Changer' today at the food festival in Hardwick Hall… Without a doubt the best burger I've ever had, and I've had hundreds! Absolutely amazing, thanks guys."
Martin, Chesterfield